One of the most crucial components of a well-designed home is an adaptable living area. Convertible furniture is becoming increasingly popular as the world continues to shrink living spaces. When it comes to maximizing your space, convertible furniture can be a game-changer. It makes it simple to convert your living room or bedroom into a home office or guest room. It also gives you greater versatility, making it ideal for people who wish to modify the look of their living area without breaking their wallet.
What is Convertible Furniture?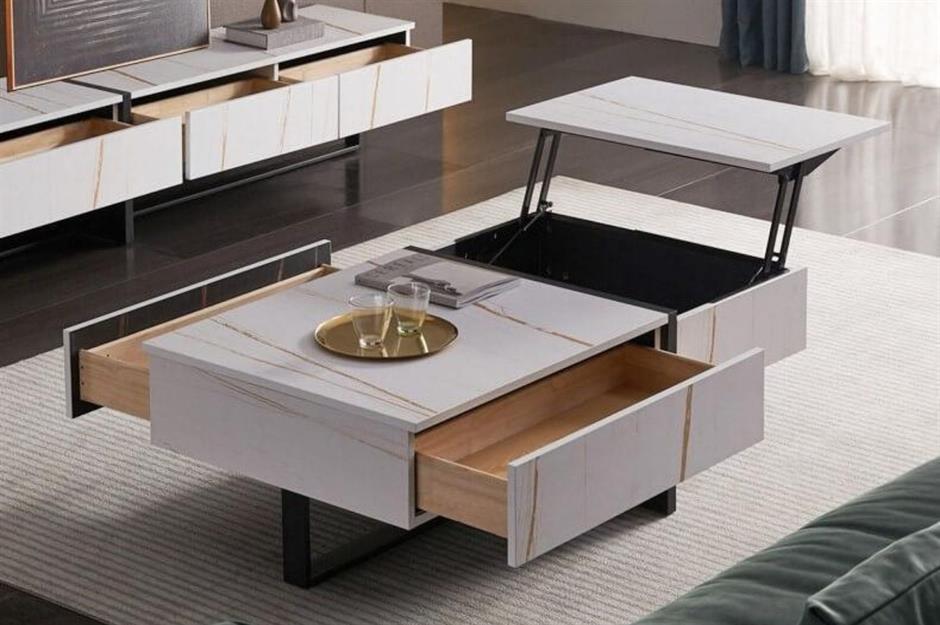 Convertible furniture is furniture that can be changed or adapted to serve different tasks or purposes. It may be divided into different components and utilized for a variety of purposes, such as a sofa bed, a dresser, or an office workstation. Convertible furniture is often lightweight and portable, making it ideal for compact places such as apartments and dorm rooms. Convertible furniture is ideal for customers looking for functional pieces of furniture without sacrificing elegance or comfort.
They are not only fashionable, but also incredibly utilitarian, and may make your living area appear larger and more ordered. For example, a sofa and a coffee table can be combined to form a double bed together, or a coffee table can be utilized as a dining table. There are a few things you should consider before acquiring convertible furniture for your home. It is an excellent choice for small spaces because it is not only elegant but also allows for the flexibility of changing and adapting to different types of furniture.
The Benefits of Convertible Furniture Design
Convertible furniture offers numerous advantages in terms of space efficiency and ease. First and foremost, it is suitable for individuals with limited room. Having furniture that can morph into many pieces at the same time allows you to utilize the available space. This implies that you can fit more furniture in a small room or area without taking up extra space or creating clutter.
Furthermore, flexible furniture is an excellent choice for individuals who frequently entertain visitors. Having furniture that rapidly transforms is a simple way of offering extra rooms, chairs, or sitting whether you have family members staying for the night or are organizing a party. Convertible furniture also allows you to swiftly transition between activities. For example, if you want to go from a work desk to a couch or a daybed, you only need to make minimal changes to the furniture. When compared to changing all of the furniture in your space, this saves you time and energy.
Furthermore, convertible furniture is adaptable; it can readily adjust to any setting or place, allowing you to move about as needed without requiring too much work or time. Furthermore, it saves money because you don't have to buy many parts that can add up over time; instead, one piece can be utilized in multiple ways, guaranteeing you get more bang for your buck. Many convertible components include additional storage compartments, making them excellent for dealing with restricted space because you won't need extra shelves or other kinds of additional storage space, which take up valuable floor space.
How to Maximize the Use of Your Convertible Furniture Arrangement
It might be difficult to make the most of your convertible furniture, but with some strategic planning and creative thinking, you can transform your living environment into one that is both elegant and functional. Getting the most out of your convertible furniture is simple; just follow these simple steps:
1. Measuring and planning your layout
It is a critical step in getting the most out of your convertible furniture. To begin, measure the room where you intend to place your furniture to establish how much space is available. Convertible furniture is meant to maximize space, you must ensure that you have the right measurements and enough room before purchasing it. Measure the length and width of the room, as well as any doorways or windows, with a measuring tape or other tool. This will assist you in determining the optimum size and style of furniture for the room.
2. Identify your needs
Identifying your needs is critical when purchasing furniture. Determine which pieces of furniture are absolutely necessary for your daily activities. Personal style is a crucial aspect to consider. Furniture should express your individuality and taste while also blending in with the current decor. Also, the budget should be considered when assessing furniture demands. Set a reasonable budget and prioritize which components are most necessary.
3. Utilize spring-loaded mechanism and gravity
Most modern convertible furniture designs are spring-supported, don't be scared to experiment with different gravity weights while changing the furniture configuration.
4. Prioritize functionality
When shopping for convertible furniture, look for pieces that can serve many purposes, such as a sofa bed or an extensible dining table.
5. Use helper items
Despite technological advances, traditional aids such as pencils, paper clips, and staplers continue to be useful equipment in a variety of occupations. Consider using wooden dowels or support straps to provide extra support for heavier parts.
6. Keep extras around
Having extra furniture on hand can also serve as a safety net in the event of damage or wear and tear. Rather than buying new furniture right once, having a spare piece on hand can provide temporary respite until a replacement is found. Make sure you have extra pillows or cushions available so you can simply alter the furniture as needed.
7. Optimize room layout
Arrange the furniture to optimize open floor space and make it easy to switch between different arrangements.
8. Consider storage options
Look for convertible furniture designs with built-in storage, such as beds with drawers or ottomans with concealed compartments.
9. Choose complementary styles
Choose convertible pieces that complement your existing decor to create a cohesive aesthetic look throughout your entire room.
10. Experiment
Don't be scared to experiment with various configurations and settings. Playing around with different ideas is the best way to figure out what works for your environment.
Following these simple steps will assist you in making the most of your small space with convertible furniture. You can modify and restructure your environment as needed, optimizing available space.
Top Convertible Furniture Options and Features to Consider
There are numerous varieties of convertible furniture on the market. Sofa beds, Murphy beds, coffee tables with storage, and foldable chairs are some of the most popular options. When selecting a convertible furniture piece, consider its aspects such as ease of setup and sturdiness. This will assist you in selecting a suitable piece of furniture that suits your needs.
Tips for Maintaining and Extending the Lifespan of Your Convertible Furniture
Convertible furniture can be costly. As a result, adequate maintenance is essential to guarantee that it lasts as long as possible. Begin by cleaning your furniture on a regular basis with the proper cleaning materials. Avoid putting heavy objects on light convertible furniture. Furthermore, avoid exposing your furniture to severe temperatures, such as direct sunshine or intense heat, as this can cause warping or breaking.
Where to buy affordable convertible furniture pieces?
When it comes to purchasing economical convertible furniture, shoppers should keep a few things in mind. Online is one of the finest places to look for discounted or on-sale things. Throughout the year, many businesses offer discounts and bargains, so be sure to check frequently and take advantage of any offers.
Secondhand stores and thrift shops can also be great places to find unique products at a low cost. These businesses frequently have lightly used things in excellent shape, as well as vintage items that may not be accessible elsewhere. Before making a final decision, investigate anything you're thinking of buying.
Renting furniture can also be a cost-effective option for those who do not want to commit to purchasing an item outright. Most rental firms have variable terms and no long-term contracts, allowing readers to experiment with several styles without having to commit to just one piece. Furthermore, several rental firms offer delivery and even set up the furniture for you when it arrives.
When looking for convertible furniture, it's critical to compare prices between manufacturers and retailers. Before making a buying decision, be sure you understand exactly what qualities each item has and how much value they bring. Reading customer reviews can also help you detect any potential flaws with an item before making a purchase, so you know what you're getting into ahead of time.
How to properly layout your unit?
When organizing your convertible furniture, think about how you might make a plan that works for the room. For example, while arranging furniture in your living room, make sure everything is positioned towards the sofa bed. If you have chairs, make the couch bed the main attraction.
Correctly organizing your layout will also help to guarantee that your furniture is aesthetically pleasing and complements your lifestyle. Consider grouping items together depending on function, such as arranging chairs next to a sofa or an armchair next to a coffee table, to create a unified design in the area. For added visual intrigue, experiment with other textures and materials such as wood or metal.
When deciding on a sofa bed layout, keep the number of people who will be using the bed in mind. This will assist you in determining how many chairs to place around it and their size. Furthermore, when putting chairs around the couch bed, make sure there is enough space between them for people to wander around and sleep comfortably.
Furthermore, if you intend to use your sofa bed as a daybed or an office desk, ensure that the furniture items surrounding it are sufficiently separated and ordered so that you can easily swap between the two. Consider the activities for which the furniture will be used and arrange it properly.
Make sure to leave enough open floor space between pieces to allow for easy mobility throughout the room, and use accessories like lamps or rugs to create balance so that no portion of the room feels empty or cluttered. You should be able to locate just what they need to make their living spaces more comfortable and inviting with careful planning and deliberate measurements.
The key to properly arranging your convertible furniture is to think about the activities you'll be doing and provide enough space between furniture components. Furthermore, ensure that the component you are converting is in the middle of your setup and that the other pieces are spread out around it for easy access.
Purchasing convertible furniture can be a cost-effective method to create an adaptable living space. With the proper furnishings, you may adapt your living space to fulfill multiple functions without purchasing new furniture. Before selecting convertible furniture, take into account the size of your area as well as other factors such as style and functions. The most important thing to remember when it comes to finishing things up with convertible furniture is to take your time. Consider the spring-loaded mechanism, employ helper objects, keep extra items on hand, and explore. Each of these procedures will assist you in getting the most out of your convertible furniture and ensuring the finest possible arrangement.
You should also remember to have fun with the process. Finally, you are making something unique and special that is tailored to your own requirements, so even the difficulty of determining the best configuration may be fun. As you become more familiar with your convertible furniture, you may uncover settings that you were unaware were attainable. Remember to properly keep your convertible furniture to guarantee it lasts for many years. Properly keeping your furniture will ensure that it can be used for as long as feasible. You may transform your home in a few simple steps with a little experimenting and attention to detail.
Written by: Sarah Mae Estrella