Picnic dates are not only fun but are also cheap and affordable making them cute picnic date ideas for any budget. Whether you enjoy gourmet foodie experiences or more casual meals, there are numerous picnic date ideas to suit your preferences and interests. You can't go wrong with any of the great picnic date ideas below as long as you have an appetite, an imagination, and an outdoor space to host your lunch. We'll assist you in getting your planning started.
Whatever you and your partner are interested in, there are interesting and best romantic picnic ideas for couples of all interests. We've got your back. So, here's your complete guide to fun picnic ideas and romantic picnic date ideas. As an added bonus, We'll share some advice on what foods and essentials to bring, as well as where to find the ideal picnic location.
Planning for a Romantic Picnic
The secret to a perfect picnic date is preparation. You have to deal with the weather, and choosing the wrong cuisine can be disastrous. On top of that, you should plan a fun activity to do after you've eaten.
When you know where to start, coming up with picnic date ideas is simple to comprehend. The first step is usually to find an appealing place – one that is neither too crowded nor too empty. Your picnic spot should offer bathrooms and trees for shade. If you're planning a larger picnic, seek a location that has picnic tables or public barbecues.
Choose a date and time to meet once you've secured your date spot. It's usually a good idea to double-check the weather prediction for the day of your picnic. For your attire, plan ahead of time. Look for clothes that allow you to sit comfortably on the ground and that you don't mind getting grass stains on. However, a picnic blanket and picnic basket are usually required, as are plates, silverware, cups, and picnic essentials if necessary.
Practical Things to Bring on a Picnic Date
There is a lot you can bring to a picnic date— but the types of picnic date ideas you choose will dictate what specific things you need to bring. If you're wondering what to bring to a picnic, consider everything you'd normally need for a lunch at home.
Now add some items to protect you as well as your partner, your food, and your clothing from the elements that surround you. Consider how you'll take your picnic goods to the park and, most importantly, how you'll carry or get rid of them when you're finished.
To get you started, here's a standard picnic date ideas checklist:
Picnic blanket
Picnic basket
Big Umbrella
Tablecloth
Napkins or wet wipes
Plates and bowls
Cups
Cutlery
Serving utensils
Bottle opener
Trash bag
Picnic Date Food Ideas: Set the Menu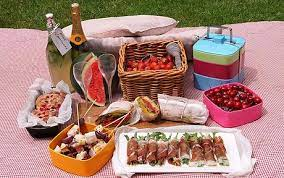 Picnics don't have to be limited to crackers, hummus, and cheese. While chips and dips have their place, there are lots of more complex picnic food ideas for lovers to explore.
Bring a variety of wines and cheeses for an outdoor tasting. Alternatively, you might host your own afternoon tea with scones, cream, jam, and a thermos of English Breakfast, and also bring food that's not too messy.
These are just a few picnic date suggestions. Here's some best picnic foods list that is likely to catch your attention if you want to prepare something special for your next romantic outdoor date:
Cook a homemade meal
Create DIY sandwiches
Pack a bento box
Have a barbecue
Build a charcuterie board
Pair wine and cheese
Host your own high tea
Share a box of chocolates
Toast marshmallows
Ideas for Picnic Spots
When you think of a picnic, you generally think of a park or a lovely area in the countryside. These are excellent suggestions, but there are several other unique picnic date places to explore.
Public Park or a Botanical gardens
Botanical gardens and parks are traditional picnic places. They also usually include plenty of picnic tables, grills, and other amenities for a pleasant day out.
City rooftop
Rooftop picnics are a wonderful picnic date idea if you live in a big city, especially if you're on a rooftop with breathtaking views of the city skyline.
Beach
A picnic date at a local beach is one of the nicest locations to go, especially in the summer. Bring your swimwear and towels for a fun day out that may even include some sunbathing.
Zoo
Zoos are great spots for a picnic date. You can spend some quality time together after lunch roaming around and admiring all the animals.
13 Fun and Romantic Picnic Date Ideas
1. Watch the sunset
Watching the sunset is a typical romantic date idea that also works well as a great picnic idea. Choose a location with a beautiful view and get comfy with your date as the colors shift and the sky fades to black. It's a good idea to carry some lights so you can see each other after sunset.
2. Wine-tasting (Great for a Valentine's Day Picnic)
Virtual wine tastings are entertaining picnic date ideas for anyone who appreciates tasty wine like red wine. A tasting is an excellent way to broaden your repertoire, learn wine-tasting notes and pairings, and boost up your next picnic date, whether you and your companion are wine experts or novices.
3. Play musical instruments
If you or your partner is musically inclined, bring your instruments and perform some songs. There is absolutely nothing like having someone sing to you while you sip a glass of wine in the sun.
4. Picnic at the Park With a Gourmet Homemade Meal
A picnic with someone you love is an excellent opportunity to put your cooking abilities to the test — and it's even better if they're skills you've honed together. Consider enrolling yourself and your lover in cooking classes near you before your next romantic picnic. A cooking class is not only a terrific way to socialize, but it is also a great chance to try out some new meals for your next picnic date ideas.
5. Visit a Drive-in Theatre
Drive-ins are cute picnic date ideas for any movie-buff couple, especially if you bring a picnic to share as you watch. While you are welcome to bring a full supper, it is always fun to bring a movie-themed picnic basket consisting of pre-popped popcorn, movie goodies like chocolate or gummies, and maybe even a beverage or two to relax with while watching the movie.
6. Head to Your Nearest Rooftop
Is your home accessible from the roof? Is there a public parking lot or other rooftop space close to you? If that's the case, these could make for some pretty exciting picnic date ideas (as long as it's legal). A rooftop picnic in the late afternoon is great for having a sunset picnic. Grab your partner, pack some snacks like finger foods and Champagne, and take in the scenery!
7. Enjoy having a Chocolate Taste Test
There are a few great ideas for a picnic date for those with a liking for sweetness, but this one is at the top of the list. Simply purchase an assorted box of chocolates like dark chocolate from your local supermarket. The date will focus on you and your lover tasting chocolates and guessing what's in them. It's not only a cute date idea, but it's also a fun and playful one.
8. Stargaze
Why not try stargazing if your picnic date comes on a clear night? You and your lover can have a date night where you both can lie down on the blanket, talk about the sky, and discover which constellations you recognize. You don't need any sophisticated equipment or telescopes to enjoy staring at the night sky, and you'll be shocked at what you can see with your naked eye.
9. Take a bike ride
A casual bike ride with your date is a pleasant way to explore your neighborhood, especially if it has numerous bike-friendly pathways. Plan your route ahead of time to avoid being too weary, and aim to end your ride at an ideal picnic area.
10. Play board games
Another entertaining activity that never goes out of style on a date is playing board games. After you've finished your picnic lunch, get out your favorite game and spend a few hours competing with friends.
11. Stroll and explore the surroundings
A long walk after your picnic is an excellent way to digest and also allows you to extend your date and get to know each other better.
12. Massage each other
Giving your date a massage may seem a little too forward on a first date, but it's a great picnic date idea if you've gotten to know them more. Find a calm and private location and start relaxing.
13. Read Books and Poems
Bring one of your favorite books and read aloud portions to each other. It's even better if you have a romantic book in mind that will make your heart race.
As you can see, picnic date ideas come in various shapes and sizes, from conventional picnics to cooking lessons to wine tastings and everything in between. Whether you and your companion are wine connoisseurs, sushi masters, or master grillers, there are fun picnic options for you to try.
You can't go wrong with these unusual picnic date ideas if you're looking for picnic date ideas to surprise your food or drink-loving lover. For your next romantic date, choose one of these 13 picnic date ideas only here on Asterra.