Spanish-inspired patterns are particularly common in Philippine antique furniture, which frequently represents the colonial era. This comprises elaborately carved wooden furniture such four-poster beds; cupboards; chairs and dining sets. Native Filipino furniture designs, which use conventional materials like bamboo and rattan, are also gaining popularity.
Antique furniture here in the Philippines may not be as common accessible as more modern furniture options. The availability and cost of antique items may vary and determining real antiques and ensuring their authenticity frequently calls for a certain level of knowledge and competence.
How do I know if my furniture is antique?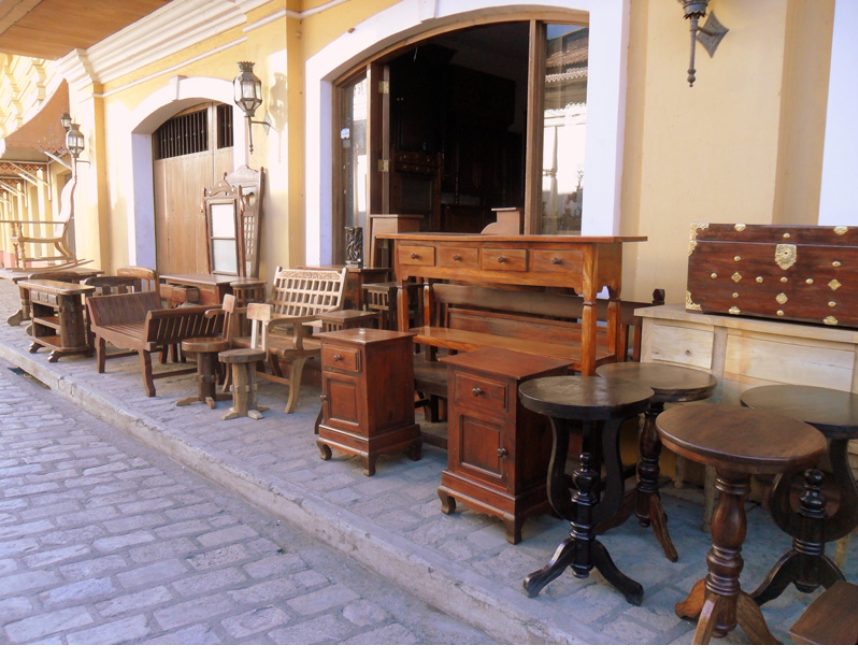 It takes expertise, investigation, and professional guidance to determine whether furniture is actually antique. Making a judgment call requires taking into account a variety of variables rather than relying solely on one trait.
There are some steps you can take to help assess its age and authenticity:
1. Research and educate yourself
Start by doing some study on the particular design, time era, and features of the furniture you already have. Look for reference materials such as books, websites, and articles that discuss the different eras' furniture styles, building techniques, and materials. You can use this information to make educated decisions about the vintage and authenticity of your furniture.
2. Examine the construction materials
Antique furniture frequently features fine handiwork and is handmade. Examine the joints, dovetails, and other building components. Look for wear, imperfections, and indications of hand tool use to determine whether something was made before the advent of mass production. Examine the type of wood utilized because solid wood is often used to make antique furniture. Certain types of wood, such as mahogany or walnut, were favored at particular times.
3. Check for signs of age
Keep an eye out for aging, wear, and patina on the furniture's surface. Genuine antique furniture frequently shows signs of aging due to natural wear and tear, including fading, scratches, dents, and color changes. It's important to combine this procedure with other diagnostic techniques because some aging symptoms can be imitated or mimicked.
4. Look for maker's marks or labels
On the furniture, look for any autographs, maker's marks, or labels. These can offer insightful hints regarding the producer, place of origin, and time era. Examine these markings to see if they are consistent with the piece's authenticity and historical setting.
5. Seek professional appraisal
Consult a knowledgeable appraiser who specializes in antique furniture if you have any doubts regarding the authenticity or value of your furniture. They can inspect the object closely, make an in-person assessment of its age, place of origin, and prospective worth.
Here are a few ways that antique furniture enhances the environment and character to a home:
1. Historical Significance
Many pieces of antique furniture have a long history. They could have been produced during a specific time period or influenced by a specific design aesthetic. Owning and displaying these items can give your house a sense of history and legacy.
2. Uniqueness
The majority of antique furniture is either rare or in short supply. They differ from the mass-produced modern furniture because of their fine craftsmanship, elaborate detailing, and distinctive features. You can make your home stand out and reflect your own style and hobbies by putting antiques into it.
3. Timeless Beauty
Outstanding craftsmanship and attention to detail are frequently on display in antique furniture. These items have withstood the test of time and continue to be alluring, frequently emanating an air of grace and beauty that defies fashion. They can give your living area a dash of refinement and class.
4. Eclectic Mix
It makes for an intriguing contrast to include antique furniture in a modern or contemporary setting. Combining various styles, textures, and materials may provide an eclectic design that is eye-catching. It is possible to customize your space and design a genuinely one-of-a-kind home atmosphere by combining ancient and new features.
5. Conversation Starters
Due to their craftsmanship, history, or distinctive qualities, antique furniture frequently starts conversations. Visitors might be interested in learning more about the history, significance, or methods used to create a specific item. These conversations can result in insightful exchanges and produce a welcoming, pleasant environment.
6. Sustainability
Choosing antique furniture helps the environment by reusing existing objects. You can choose antique furniture that has already weathered the test of time rather than buying new furniture, which adds to the need for natural resources and production processes. Adopting vintage furniture helps you live a more environmentally friendly lifestyle.
Top 10 Online Stores to Hit Up for Vintage and Upcycled Furniture
Thrifted apparel, first-run vinyl records, or vintage gadgets like film cameras, brass items, mirrors or old typewriters are probably what you picture when you think of vintage shopping. But when looking for vintage furniture, for example cabinets and chairs, you could be astonished at how many hidden gems there are. Thank goodness, Manila has a ton of internet stores that can do the searching for you.
1. Unang Panahon Arts and Antiques
Furniture made from vintage or repurposed materials can be purchased and sold on this antiques shop. You can check their online page to find one-of-a-kind pieces and additional information.
2. Resurrection Furniture and Found Objects Gallery
A store called Resurrection in Makati City sells a variety of vintage and repurposed furniture, accessories, and household goods. You can browse their carefully picked inventory and make purchases on their website.
3. Cama Vintage
Offers second-hand furnishings, accessories, and storage options in a range of traditional, modern, and bohemian styles. Particularly from the 1970s and 1990s, their collection includes unique piece items with curved forms, striking prints and textures, and rustic embellishments.
4. Urban Abode
A variety of modern, vintage-inspired, and upcycled furniture is available at Urban Abode, an online furniture retailer. They provide a number of distinctive items that might give your house more personality.
5. The Vintage Hunter
The Vintage Hunter is an online store that specializes in collectibles, vintage and retro home decor, and furniture. They gather interesting items from diverse eras and put them up for sale online.
6. Furniture Stories
The Instagram bio of Furniture Stories declares, "Each piece has a story to tell," and their collection of previously owned and refurbished home treasures ooze the individuality and flair you would expect of pieces that seem to be from a different era. They have some really unique wall clocks, modern seat designs, and sleek tables and storage drawers that we truly adore.
7. Rustic Finds
Offers mid-century modern and Art Deco-inspired furniture and home furnishings. The contemporary framed pictures in their collection are ideal for adding color and individuality to your room, as well as practical chairs, tables, storage, and lighting fixtures. You should continue to check back for new finds because they regularly add new things to their lineup.
8. Cura Furn
If you're looking for chairs for your dining room, bedroom, home office, or other areas of the house, visit the Instagram store Cura Furn. Dining chairs, bar stools, floor couches, armchairs, loveseats, reclining chairs, and more are among their assortment of eccentric, vintage seats.
9. Slow Home
Slow Home focuses on providing pre-loved furniture and décor items that only get better with age to homeowners in an effort to support them in leading more environmentally responsible and less wasteful lives. Your area will feel cozier thanks to their selection of floor chairs, couches, and lounge chairs.
10. Upcycle Deco
As suggested by the name, Upcycle Deco is a place where you can find furniture items from thrift stores such chairs, planters, baskets, clothing racks, and mirrors. They specialize in particular in solihiya, wood, and rattan pieces. Their one-of-a-kind line of home furnishings includes rustic, cozy designs ideal for sunlit areas filled with lush plants.
How Do Antique Pieces Provide Character in your Slow Home
A design philosophy and lifestyle approach known as "Slow Home" places an emphasis on mindful and considerate decisions when constructing a home.
You put sustainability, purposeful consumption, and a connection to history and tradition first by adopting antique furniture as a component of the Slow Home movement. It enables you to build a house that is in line with your ideals, promotes happiness, and endures throughout time.
Adopting the Slow Home philosophy can encompass the following when it comes to antique pieces
1. Quality over Quantity:
Choose long-lasting, high-quality items, as suggested by Slow Home. As it is frequently made utilizing time-honored methods and robust materials, antique furniture frequently exemplifies this idea. By deciding on antique furniture, you place value over disposable or mass-produced products.
2. Mindful Consumption:
In order to practice mindful consumption, one should steer clear of pointless purchases and concentrate instead on collecting things that have value. By selecting antique furniture, you are reusing and repurposing existing items and fostering a more sustainable and ethical way of life.
3. Connection to History and Heritage:
Antique furniture exudes a sense of legacy, workmanship, and history. Slow Home promotes maintaining a sense of the past and appreciating the legends and customs attached to vintage items. Your home will have a sense of continuity, preservation, and reverence for the past if you use these objects.
4. Individuality and Personal Expression:
Slow Home encourages self-expression and uniqueness when designing a home. Your personal taste and style are reflected in the character and originality that antique furniture brings to your room. Each antique item has a unique story to share and adds to a carefully designed and meaningful home décor.
5. Emotional Value and Timelessness:
The goal of Slow Home is to design places that arouse feelings of coziness and nostalgia. Slow Home values emotional connections to objects. Antique furniture frequently has sentimental importance for us since it links us to our past or to family heirlooms. Additionally, these items frequently transcend transitory fashion trends and guarantee ongoing significance because of their timeless design.
It is crucial to take into account your personal preferences. The item's compatibility with your overall décor and the practicality of their use while incorporating antiques into your house. These objects may provide character; history and aesthetic appeal to your living spaces, whether you have a single antique focus piece or a complete collection.