The maximalist decor trend is all about appreciating excess. Consider a lot of vibrant colors, a lot of pattern, and a lot of textured features. While 'more is more,' the present trend for maximalist design doesn't imply mess. Consider your environment to be a well organized Aladdin's cave of treasures, with each object on exhibit more fascinating than the previous.
Don't confuse being a maximalist with having an unorganized space. Maximalist design rooms are stylishly arranged with a "more is more" mindset, whether it's showing a large collection, mixing and matching bold colors and patterns, or covering a wall with artwork. As interior designer Chad Graci puts it, "Maximalism wants bold, bold, BOLD. Pattern, color, scale, and drama are all working together to be noticed, and that, in a way, makes this style work."
The Philippines' Maximalist Design
Our culture in the Philippines is going more toward maximalism and expressiveness. "The common Filipino is a maximalist, filling up every available space with forms and things. . It springs from an expressive exuberance deeply rooted in emotional sensitivity and the strong urge to connect." says Prof. Felipe M. De Leon Jr., chair of the National Commission for Culture and the Arts.
According to a research published in Urban Planning and Architecture Design for Sustainable Development, "the typical Filipino home decor has every wall covered with paintings, photographs, and assorted memorabilia. Every nook and cranny in a single room must have something. A veranda cannot have just one table and two chairs; it must also have an altar and so another table, plants, the banga (Filipino earthen jar), and a small rocking horse if possible (Lorenzo, 2015)".
Benefits of Styling your Condo the Maximalist Way
Your condo's maximalist interior design provides you with the amount of comfort that you require. A comfortable living room with soft texture and lively colors is perfect for socializing and creating a domestic atmosphere. It's a wonderful place for the family to meet and bond. A well-lit study table with a full and functional bookcase makes the area inviting for a voracious reader. As a result, the style of your home will complement the activities you enjoy and the lifestyle you lead. If you want to start your home-styling journey, you can locate plenty of affordable condo for sale that offer excellent maximalist interior design styles.
According to studies, effective interior design has a positive impact on your mental health. Aside from enhancing your mood, as previously stated, the personal space that your condo provides seems like a cradle in the midst of life's trying periods. In moments of emotional shock or pain, a person's natural instinct is to return home. This is due to the fact that your maximalist space is your haven. As a result, having an inviting home can greatly improve your mental health.
It raises the value of your condominium. For example, if you live in a low-cost property and intend to sell it later, a decent interior design will help you in two ways. First, you get a chance to relish the comfort it provides while you still live in it, and second, you get the financial reward of increasing the value of your property. A lovely interior design like maximalist home style, on the other hand, will cost you extra if you plan to acquire a property from a listing, such as a townhouse for sale.]
The proper color and texture of your workspace can help you be more productive. It promotes the stimulation of ideas and generates happy feelings when combined with a practical and functional set of furniture and natural light.
It optimizes your state of mind and the ambience of your condo. Home interiors that are well-decor allow for the natural movement of fresh air, which boosts mood by generating a comfortable atmosphere in your condo.
10 Creative Ways to Embrace this Joyful Trend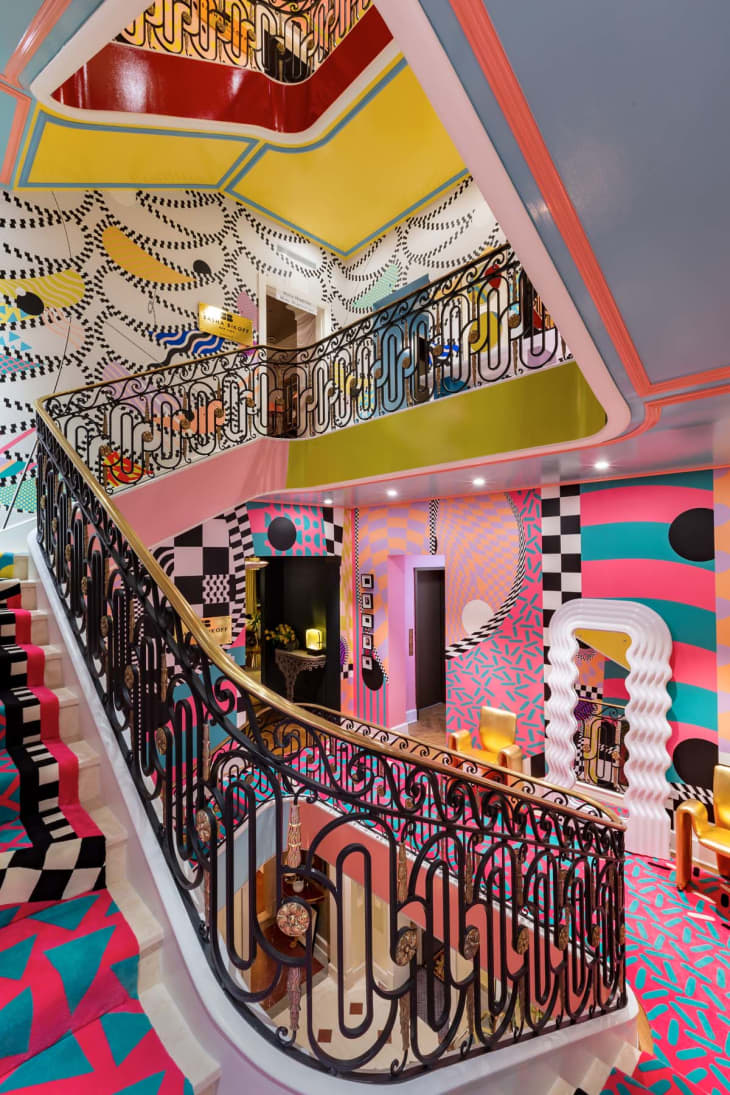 1. Mix and Match
Since maximalism is all about showcasing pattern play, don't be afraid to mix and match different fabrics and prints. The more vibrant and dynamic, the better, but there are some fundamentals to remember. "Use colors that are all the same intensity level—for example, all jewel tones," Graci suggests.
2. Plantita / Plantito
Most maximalist homes are overrun with plants! If you adore your green buddies, don't feel obligated to stop at a set number—plants of different sizes and shapes look stunning when grouped together to provide a jungle-like vibe.
3. Hanging here and there
Create a gallery-style display of your favorite images and prints to add some real vibrancy to your walls. If you really want to go all out, hang a gallery from the floor to the ceiling.
4. Eye-Catching Workplace
If you work at a desk all day, make sure you have something interesting to look at when you take breaks from your monitor. This home office has a crowded wall of prints that adds vibrancy while also being informative.
5. Make Your Living Room More Maximalist Style
Subtle decor has long been the rule of thumb for making the most of a small space. However, interior designers are breaking the rules and producing joyous maximalist interiors in small spaces.
'People often believe smaller spaces call for more pared-back design, but I disagree,' designer Sophie Ashby explains. 'Your living room ideas should feel like a cocoon that gives a sense of who you are, and smaller spaces are often better for creating this heightened sense of character.' The well selected color clashing mix absolutely shouts with excitement with modest living space.
6. Express & Share Your Personal Style
The most crucial thing to keep in mind when constructing a maximalist room is to use your decor decisions to customize it to your personality and your passions. Accept the possessions you cherish or have gathered. Draw attention to your preferred materials, accessories, and colors. You get to design and play with it after all!
Identifying the elements and features of maximalist interior design
Though not exhaustive, consider the following design concepts when creating a maximalist room:
Bold wallpaper
Brighter colors
Mixed patterns with contrasting motifs, like animal print, geometric shapes, or florals
Ornate accents, like chandeliers
Layered fabrics
Statement pieces
Maximalism vs. Minimalism
Introduced as a reaction to modernity and the abstract expressionism, minimalism is the result of the saying, "less is more." It selects the route of doing the bare least to make a space, or a piece of art, be practical or seem complete. It is a way to convey a lot of information with the fewest possible steps. Soft pastel and subdued color palette, subtle materials, basic shapes, and a lack of textures and patterns are traits of minimalism.
On the other side, maximalism entirely rejects this minimalism movement. This trend, known as the "aesthetic of excess," was founded on the idea that "more is more." Maximalism, like the postmodernist movement, is the offspring of strong colors, crisp patterns, captivating textures, and loud shapes, being attention-grabbing in every aspect.
Both minimalism and maximalism have applications in a variety of fields, including visual arts (films, paintings, sculptures), motion arts (dance and song), fashion & clothes, literature, architecture, and interior design. The fundamental distinction between the two movements doesn't change. While maximalist interior design makes use of the most components, colors, and patterns imaginable, minimalist interior design uses the fewest possible to express a message.
Interior design as well as architecture can be identified with a list of components – and how each style modifies them – even though there are practically opposites of each design feature when applied either for maximalist style or minimalist style.
Design Style
Boho design is an example of maximalist style, while Scandinavian home décor is a prime illustration of minimalism.
Flooring
The flooring in a minimalist space complements the walls, the furniture, and the neutral color scheme. A maximalist interior may choose to have flooring that is same to the walls or completely different from the rest of the space. A space's fascinating element is a combination of numerous tiles that have been carved into designs.
Furniture
Medium-sized, gently colored, and suitable for the space are all characteristics of minimalist furniture. Extreme minimalism can be seen in the size and color of furnishings.
Furnishings
The minimalist's interiors include little, tiny accents like house plants, coat hooks, and dramatic lighting fixtures. The eyeballs have room to move around and breathe. Chandeliers, centerpieces, and other accessories are used by the maximalist in practically every area of the space. The room feels confined and intimate.
Walls
White, pastel, or naive hues are all examples of minimalist wall decor that never detract from the room's visual language. The color of every wall would be the same or comparable. Red, green, and blue would be the dominant hues on maximalist walls, which would serve as the room's main points. Some walls can be given more importance than others by using patterned wallpaper, shape patterns, and textures.
The choice of any one of these styles—minimalist or maximalist—or something in between greatly depends on the individual's preferences, sense of style, and personality. The decision between interior design and architecture speaks volumes about a person's sense of style and, more importantly, their personality—whether they are outgoing and extroverted or refined and content in solitude.