Do you want to make beautiful, long-lasting furniture for your home without spending a fortune? Pallet furniture is an excellent choice. It is not only an environmentally responsible technique of reusing wood, but it also has a wide range of design possibilities and can be made with only a few basic tools. Pallet furniture is becoming increasingly common in the furniture industry. Despite their rough look and apparent low quality, pallets have proven to be not only environmentally beneficial but also an excellent method to give rustic charm and character to your living spaces. One of the most notable features of pallet furniture is that it is totally composed of recycled materials, making it a sustainable alternative for people trying to lessen their carbon footprint.
What is pallet furniture?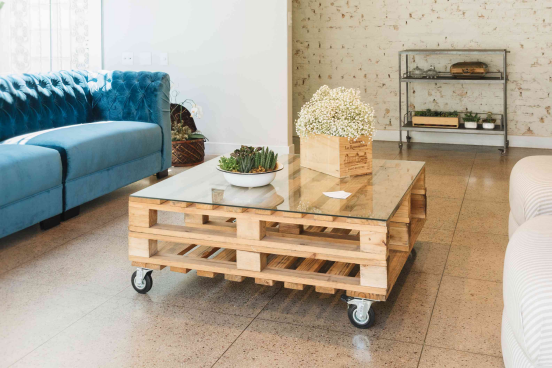 Pallet furniture is a type of furniture created from repurposed pallets that were originally used to store and transport products in the shipping business. After they have completed their usefulness, these pallets are often discarded. Pallet furniture lovers, on the other hand, have discovered inventive ways to reuse and recycle pallets, making them attractive and usable pieces of furniture. Pallet furniture is adaptable and can be built to fit into any space of your home, including the living room, bedroom, and even the garden. Pallets can be used to create furniture such as sofas, coffee tables, bookshelves, beds, and even hammocks. The choices are boundless, and the ultimate result is frequently one-of-a-kind and spectacular.
One of the best and most amazing aspects of pallet furniture is its low cost. Pallets are frequently available for free or at a substantially cheaper cost than standard furniture materials. As a result, it is a fantastic choice for anyone trying to build furniture on a budget. Another advantage of pallet furniture is its ease of customization. Pallets are an excellent starting point for unlimited customization choices, whether you want to paint or stain the wood, add cushions or fabric, or modify the design totally.
Pallet furniture is environmentally beneficial. We contribute to a more sustainable future by repurposing pallets, which reduces waste and the demand for new lumber. Furthermore, pallet furniture completed with eco-friendly paints and stains can be a healthy and safe alternative for your house. It is a one-of-a-kind, versatile, inexpensive, customizable, and environmentally friendly alternative for anyone wishing to add character and beauty to their home decor.
The importance of innovation and eco-friendliness in furniture
In the field of furniture design, innovation, and environmental friendliness are becoming increasingly crucial. Customers are looking for new and imaginative methods to design their homes while keeping the environmental impact of their selections in mind. Pallet furniture can help with this.
Creating furniture out of pallets is a creative concept that provides a sustainable solution for your home. You can make something wholly new and unique by reusing scraps from old or discarded pallets, contributing to a more sustainable future. Furthermore, the DIY part of making pallet furniture contributes to the creative aspect of the method by fostering creativity and providing for the potential of customizing furniture to meet unique needs.
Another significant advantage of pallet furniture is its environmental friendliness. As previously said, repurposing pallets lowers the carbon footprint by eliminating the need to acquire new furniture. Additionally, the avoidance of chemicals and materials often utilized in traditional furniture production contributes to pallet furniture's eco-friendliness. You can avoid using chemicals like formaldehyde, which is typically found in composite boards and furniture glues, making it a greener, less expensive, and healthier option for your house.
The importance of innovation and environmental friendliness in furniture design cannot be stressed. Using pallets to make one-of-a-kind and sustainable furniture is just one of many creative ways to decorate a home while remaining conscious of our environmental effects.
Advantages of using pallet furniture
Pallet furniture is becoming a popular choice for folks wishing to design their homes in a creative and environmentally friendly way. The following are the top benefits of using pallet furniture:
1. Versatility
Pallet furniture may be customized to match any area in your home. Pallets can be utilized to make distinctive and functional pieces of furniture that can be customized to fit any location, from the living room to the bedroom.
2. Affordability
One of the major advantages of pallet furniture is its low cost. Pallets are frequently available for free or at a fraction of the price of standard furniture materials. Homeowners can save money while still establishing a fashionable and useful living area.
3. Customizability
Pallets have limitless customizing possibilities, making them a fantastic choice for anyone wishing to show their creative and craft side. You can paint or stain the wood whatever color you like and add cushions, upholstery, or other distinguishing characteristics to give your furniture a one-of-a-kind appearance.
4. Sustainability
Pallet furniture is eco-friendly and helps to ensure a more sustainable future. We eliminate waste and the need for new lumber by repurposing pallets, which helps to lower our carbon impact. Pallet furniture can also be completed with eco-friendly paints and dyes, making it a safe and healthy solution for your house.
Pallet furniture is a creative and eco-friendly method to decorate your home, offering adaptable, economical, adjustable, and long-lasting solutions for decorating every area.
DIY projects for your home using pallets
Makeover your home decor with these pallet DIY projects! To get you started, here are five basic and imaginative ideas:
1. Pallet Sofa
Make a comfortable and elegant sofa out of many pallets and small pieces of fabric. Make it pleasant and inviting by adding cushions and tossing pillows.
2. Garden Bench
Make a stunning garden bench out of a pallet in your backyard. To make it one-of-a-kind, add a coat of paint and some ornamental embellishments.
3. Coffee Table
A pallet coffee table looks fantastic in any living space. To bring out the natural beauty of the wood, sand it down and apply a coat of stain.
4. Wine Rack
Pallets are perfect for making a wine bar or rack due to their strength. Make it fit your style and collection.
5. Floating Shelves
Make stunning, rustic floating shelves out of pallet wood to display your favorite photos or decor.
These DIY projects are not only cost-effective and environmentally friendly, but they also bring a personal touch to your home decor. Get creative and let your imagination run wild with the pallet furniture project.
Where to Find Sustainable Pallet Furniture.
There are various locations to check if you want to add some sustainable pallet furniture to your home. Some popular choices are:
– Local furniture stores that specialize in eco-friendly and sustainable furniture.
– Online marketplaces like Lazada and Shopee, where you can find one-of-a-kind products and handcrafted pallet furniture.
– Online DIY tutorials and guidelines that show you how to make your own pallet furniture.
Safety considerations to keep in mind when building pallet furniture
Although constructing and using pallet furniture is a terrific way to save money, recycle, and be environmentally responsible, there are several safety precautions to bear in mind. Here are six safety precautions to take when constructing pallet furniture:
1. Choose Pallets Carefully
Choose pallets that are clean and devoid of any hazardous chemicals or substances.
2. Sand Down Rough Edges
To avoid accidents, ensure that all rough edges and splinters are sanded down before beginning the deck-building process.
3. Use Proper Tools and Equipment
To avoid mishaps, use the proper tools and equipment for the work.
4. Secure the Furniture
Check that the patio furniture is securely fastened and does not readily tumble over. Secure it to a solid surface using brackets or screws.
5. Avoid Pallets with Damage
Under tension, pallets with cracks, chips, or splits are more prone to break. Use damaged pallets sparingly in your furniture.
6. Keep Children Safe
Pallet furniture should not be used for climbing or playing by children. Make sure your furniture is strong and secure enough to withstand any weight or activity.
You may enjoy the beauty and practicality of your pallet furniture without worry if you follow these safety recommendations.
Maintenance Tips for Your Pallet Furniture.
To ensure that your pallet furniture pieces endure as long as possible, you must recycle them properly. Some essential hints to remember are:
– Avoid exposing your plastic pallet furniture to extreme or potentially hazardous weather conditions, such as high temperatures or rain.
– Use a soft cloth and a light soap or vinegar solution to clean your pallet furniture on a regular basis.
– Avoid using harsh chemicals or abrasive cleaning agents on your pallet furniture because they might harm the wood.
– To keep the wood from drying out, apply a fresh layer of protective sealer every few months.
Pallet furniture is an excellent method to incorporate eco-friendliness and innovation into your home decor. However, when creating and utilizing this form of furniture, it is critical to keep safety in mind. Always select clean, chemical-free pallets, sand down rough edges, and utilize appropriate tools and equipment. Furthermore, lock the furniture in place, prevent using damaged pallets, and keep youngsters away from them.
You can transform old wooden pallets into unique and elegant furniture pieces that display your personality and ideals while also helping the environment by following these safety rules and using your imagination. So, why not experiment with pallet furniture and discover how it may add charm and sustainability to your home?
Written by: Sarah Mae Estrella